2 November 2020 –
So, it's 2020! This is the year you're going to propose to the love of your life. Can you believe the time has actually come?
You know you want this to be the most perfect day. You've dreamed about this long enough and you want everything to go as smoothly as planned. BUT, how will you actually do it? What is your plan?
Here are 4 reasons you need our help for your dream proposal!
1. We will give you the creative inspiration you need
We know you want the "wow, oh my gosh, you did what?" moment when your story is being told. Trust us, we know. We're the creativity experts when it comes to proposals. We know that this is the moment your love gets to show off for the next few months and "how did you do it?" will be the question on your friends and family's lips.
Creativity runs in our system, so rest assured you will receive your dream proposal. From the right month to pop the question, with the right location, backdrop and styling to your needs, we will have the perfect moment of love ready for you to enjoy together.
2. To help you capture your special moment
A proposal is something to remember forever, and it essentially comes down to 4 words: Will you marry me?
This time goes quicker than you can absolutely imagine. Trust us when we say this, you will want to capture your moment with video, as well as photograph the sheer joy and emotion on both your faces. You will cherish this forever. There is nothing better than sharing the joy you experienced together, with those you love the most. Remember, spreading love and smiles are infectious.
3. Customisation is key
Life is too short to do things the same as they've always been done. We are designers and producers with creativity (plus a lot of love) running in our system.
We know every relationship is unique; therefore, every proposal should be unique too! Taking the time to ask you all the important questions about your love is the start of our customisation process. Think along the lines of:
Where did you meet?
What are your future dreams?
Likes?
Dislikes?
What are the best moments and memories you share together?
Another thing we love to do is "stalk" your social media! This gives us a great indication of you and your love together. This also helps us to really scale up our creativity and customise this especially for you! We LOVE this!
4. Your plan is guaranteed to run smoothly
Oh, those pre-jitters and butterflies will not last long when you know you have Australia's best proposal planners in your corner. All you need to do is make sure you both get there.
Don't worry too much about what to tell your love, we help you every step of the way to ensure your surprise remains a surprise. We have all the tips and tricks up our sleeve, so you don't let the cat out the bag beforehand. We know keeping secrets is difficult, that's why we're here to help.
Then we move onto the sneaky work of love and cupid all wrapped into one. The clever set up and the *remembering* of EVERY. SINGLE. DETAIL. We make sure you're cool, calm and collected so you can enjoy the moment as much as your Fiancé to be.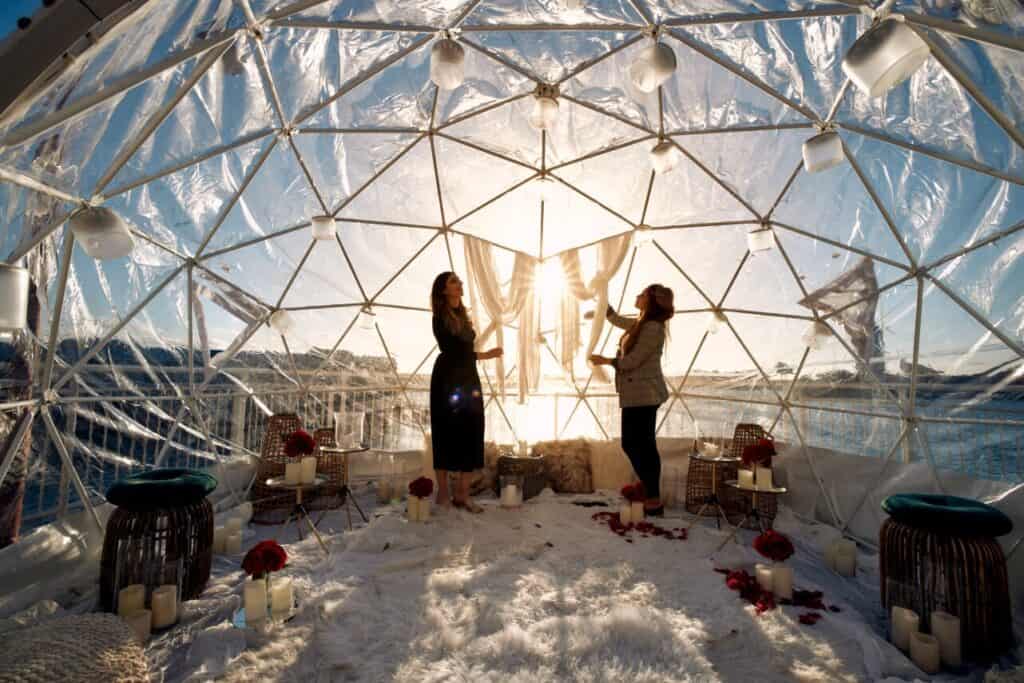 xxx
Tania + Gloria
Tania and Gloria are proposal planners based in Sydney. With 13+ years in the making and over 500 successful marriage proposals and romantic dates later you know you're in good hands with your once in a lifetime opportunity to propose to the love of your life. Think, the perfect fusion between creatively romantic, thoughtfully designed and smoothly delivered to the finest detail. We're designers and producers and work with amazingly cool people that believe in the power of romantic experiences.
Are you ready to propose?
Let's get started
Contact us here