29 April 2021 –
Every year we find new proposal trends, styles and ideas emerging and taking over the proposal industry. We have compiled a list of the growing marriage proposal trends for 2021 and explain how the affects of the Corona Virus pandemic in 2019/2020 has impacted a shift in some of these trends.
Dried Florals
Dried florals are all the rage at the moment, from proposals, engagement parties, weddings and home decorating in general! These days dried florals come in a plethora of beautiful, bright colours and styles, with endless arrangement possibilities popping up all over Instagram and Pinterest. With fresh floral prices booming during the Covid-19 outbreak, dried florals have become an economic and longer lasting alternative to fresh flowers, which only last a few days. Proposal clients are loving this new trend because it means that they can take home all their dried floral arrangements and keep them in beautiful vases around the house as a keepsake, lasting for a minimum of 12 months! Not only do they last longer than fresh florals but they are allergy free, can be dyed to suit different colour schemes, are not limited to seasonal availability and are generally low maintenance.
Earthy Colour Schemes
We are taking things back to nature and craving earthy tones and textures in styling pallets. This trend has been around for a while and doesn't show any signs of slowing down! Proposal clients are increasingly asking for tones of creams, terracotta, greens, dusty pinks and oranges in their colour pallets. Of course the traditional romantic red colours are still popular but those who are after more of a unique styling concept, you can't go past subtle earthy tones, coupled with metallic materials to add some shine and compliment the ring!
Seclusion and Nature
As we try to continue to stay away from crowded locations and re-connect with nature, a shift has occurred in requested proposal locations. Proposal picnics are back on the rise but this year it's not about picnics with city views anymore, it's about secluded locations away from the crowds. Imagine secluded beaches, islands only accessible by private boat and hidden clifftop locations along a mountain hike. Hopeful proposees are taking their partners away from the hustle and bustle of the city, choosing to romance in regional and little known locations where it's just the two of them, surrounded by mother nature.
Staying Indoors
Following on from the desire for privacy and seclusion, indoor proposals are on the rise! This trend has lent itself to some really romantic proposals ideas and has us appreciating that we don't need to travel far to feel the love. We are finding requests for private home cinemas, indoor pillow fort settings and backyard proposals are booming! Home is where the heart is and since lock-down, it seems we are appreciating the comforts that home can give us. There is nothing cosier than spending time with your partner at home with a bottle of wine, your favourite playlist and a romantic proposal setting waiting for them to come home to.
Involving All Your Loved Ones
Proposals are such an exciting, romantic, overwhelming and joyous time, so it's only natural that you want your nearest and dearest to share in that moment with you! More and more couples are wanting their family and friends to join them at their proposals. Family and friends share in your happiness and nothing is better than when they are there to congratulate you both with their hugs and kisses. Quite often they are hiding, watching from the sidelines or waiting to run over and congratulate the couple once the ring is on and they hear the "YES!". We are craving family and friend connections more than ever and their involvement in a proposal will increase the love!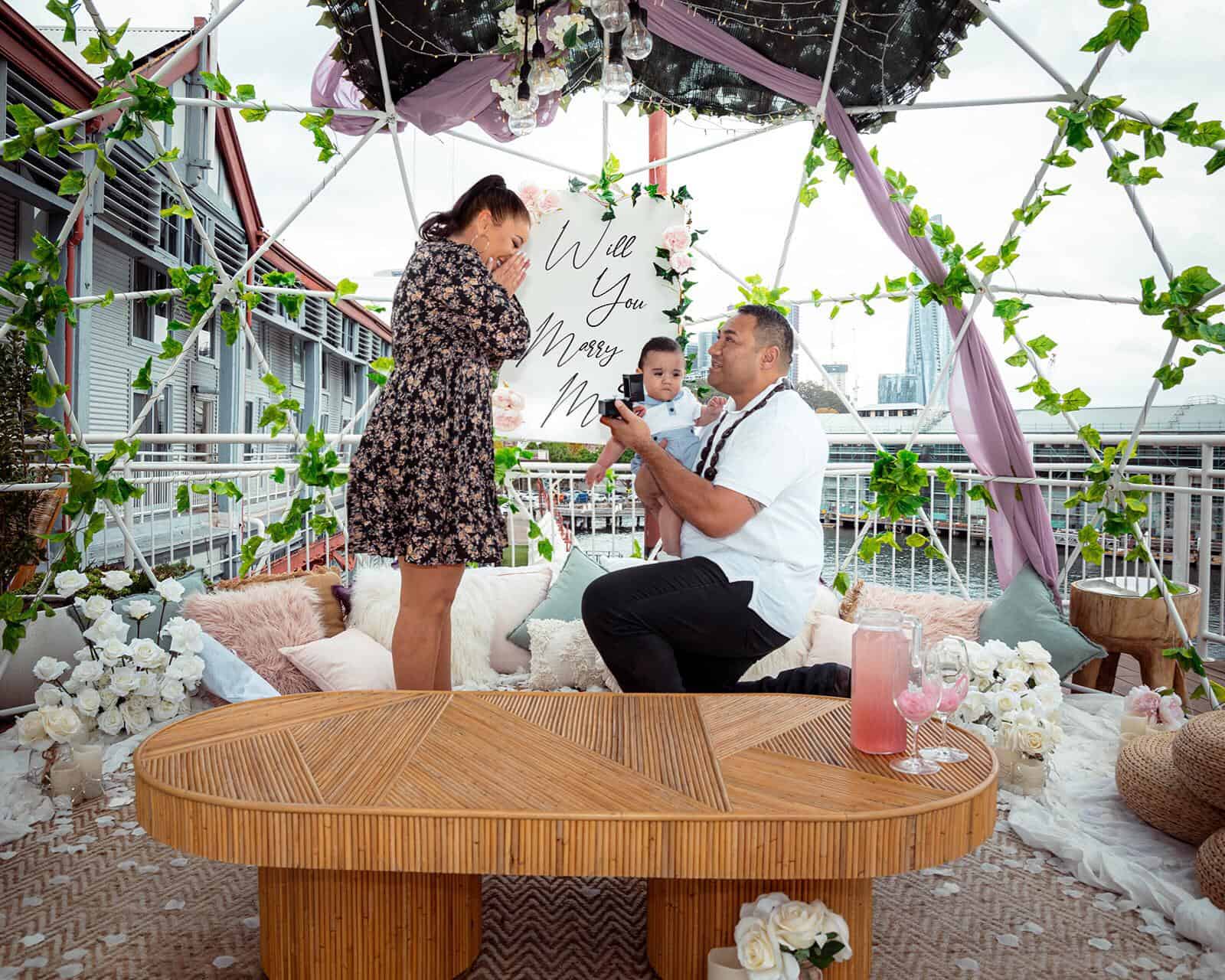 xxx
Tania + Gloria
Tania and Gloria are proposal planners based in Sydney. With 13+ years in the making and over 500 successful marriage proposals and romantic dates later you know you're in good hands with your once in a lifetime opportunity to propose to the love of your life. Think, the perfect fusion between creatively romantic, thoughtfully designed and smoothly delivered to the finest detail. We're designers and producers and work with amazingly cool people that believe in the power of romantic experiences.
Are you ready to propose?
Let's get started
Contact us here