1 October 2021 –
Proposing in Perth? Here's Where to do it!
Are you living in Perth and planning to propose? Well this blog is for you! The weather is warming up, love is in the air, and it's peak season for proposals! So don't wait any longer, we are here to help you find the perfect spot to propose to your partner! Whether it be in a hotel, in a park, in a private dining room or on the beach, we have the answers for you!
Hotel Proposal
Hotel proposals are always a great option for your proposal, as the space is private, wet weather proof and very luxurious. You can easily tell your partner that you are going away for a romantic staycation or going to a work function in a hotel and they won't suspect a thing!
Our favourite hotels in Perth including, Crown Towers Perth, COMO The Treasury and the Langham Perth, where our clients receive VIP inclusions! You could fill the room with balloons, rose petals and candles or even have a MARRY ME sign set up against the window.
We suggest engaging a proposal planner to arrive earlier and set up the proposal setting for you so that its waiting for you when you check in and enter your room? Your partner will love the surprise!
Park Proposal
Parks are a beautiful location for a Spring/ Summertime proposal and there are plenty of beautiful parks in Perth to choose from! You could set up a picnic, create an extravagant proposal setting with light up letters and a long carpet, or find a cosy spot amongst the trees for a fairy light tree proposal. Take your partner out for a day of fresh air and surprise them with a gorgeous ring and the big question they have been waiting for!
Beach Proposal
There is nothing more romantic than taking a stroll along the beach and ending up at a beautiful beach picnic setting that is waiting for you and your partner. Perth has so many gorgeous beaches that are perfect for a beach picnic proposal! We recommend finding a quiet spot on the beach for some privacy for you and your partner. Style your beach picnic with a gorgeous picnic rug, a small picnic table, some cushions and a cheeseboard or sweet platter, and add a bouquet of flowers for your partner to take home afterwards. After you get that "YES!" you can watch the waves roll in and the sun go down with your new fiancé.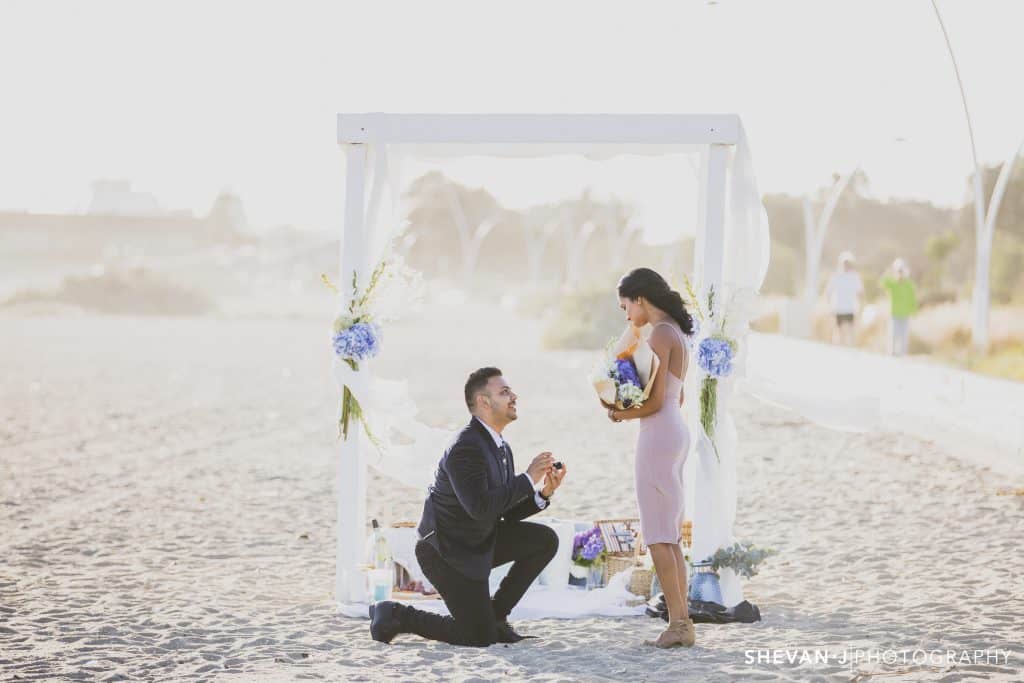 Private Dining Room
Imagine a beautiful table for two in an intimate dining room with a chef prepared meal and bottle of French Champagne. Why not book the private dining space at one of Perth's finest restaurants to make your proposal extra special? Tell your partner that you are going out to dinner and surprise them with a beautiful proposal setting with flowers and candles and when the time is right, ask them to MARRY YOU! Then celebrate the start of a new chapter of your lives with a romantic dinner date with your new fiancé!
So, no matter what kind of proposal you are planning, the city of Perth has the perfect proposal location for you.
We are operating business as usual in Perth and can't wait to help make your proposal dreams come true!
If you are ready to propose, fill out our enquiry form and we will be in touch.
xxx
Tania + Gloria
Tania and Gloria are proposal planners based in Sydney. With 13+ years in the making and over 750 successful marriage proposals and romantic dates later you know you're in good hands with your once in a lifetime opportunity to propose to the love of your life. Think, the perfect fusion between creatively romantic, thoughtfully designed and smoothly delivered to the finest detail. We're designers and producers and work with amazingly cool people that believe in the power of romantic experiences.
Are you ready to propose?
Let's get started
Contact us here