28 July 2020 –
It's our birthday! Happy 5th birthday to us!
We cannot believe that 5 years ago we were sitting on the dining room table at Gloria's house and announced the launch of our new business on our very first IG post.
Only a few weeks prior, we were registering an ABN, amateurly building a website and deliberating over the colour for our brand and how we were going to come up with the best proposal ideas for our clients.
We worked on the dream of creating romantic proposals and working for ourselves, while we safely stayed in our full-time jobs, working on our side hustle after hours. Fast track 2-3 years and both Gloria and I left our full-time careers to build on the creative and growing world around us, that of elaborate marriage proposal planning.
Like every new business, we started off doing every single thing ourselves. Every logistical detail was planned and executed by the two of us, until we became so busy that we started to burn out. There wasn't enough time in the day to talk to new clients, organise all event logistics, find new suppliers, scout new locations, come up with new ideas, pick up every prop and be onsite to set it all up to finally packing it all down every time.
Over the past 5 years, we have:
planned over 500 proposals and romantic events in over 30 cities and more than 10 countries.
hired and trained our first full time event coordinator (love you, Chloe) and built amazing relationships with onsite teams, suppliers and clients.
appeared as proposal planning and romance experts across the country in over 100 various news publications, blogs, radio stations and TV programs, including Sunrise!
pulled off 4 different LIVE marriage proposals on national TV: Studio10, 10News First Melbourne, 10News First Sydney and 9News Melbourne.
developed relationships with amazing jewellers; Jacque Fine Jewellery, Parade Jewellers and Michael Arthur, to name a few.
started families with both of us having baby girls within a year of each other, all while working on My Proposal Co. full-time (yes, Tania did take client calls whist in labour!)
rebranded our whole business and stayed on top of proposal trends
started working on the launch of an exciting new venture (details coming soon!)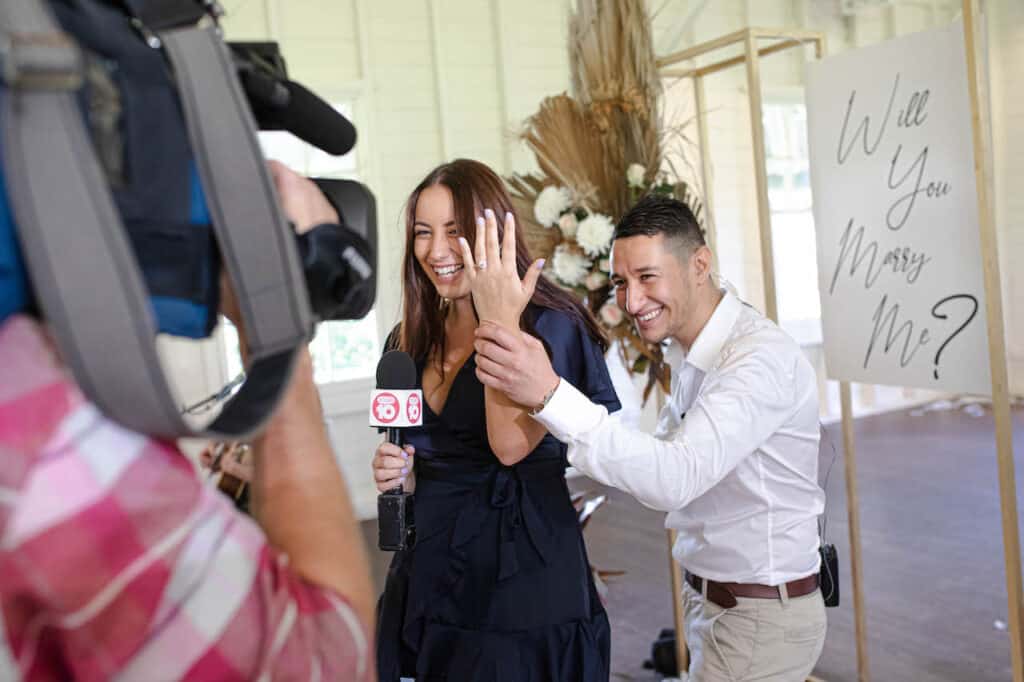 How we did this all comes down to our number one advice for anyone starting a business… don't burn yourself out. Outsource if you can, enlist help where you can and find trusting suppliers that will care about your business like you do, so you can work on the bigger picture.
It's because of our hard work and these relationships that we can now call ourselves one of Australia's biggest and trusted proposal planners!
A lot has changed over the past 5 years (including our huge decision to change our brand from orange to blue, haha) but with every change and every day we learn, and we grow.
Cheers to the next year and all the exciting ideas we have in store.
xxx
Tania + Gloria
Tania and Gloria are proposal planners based in Sydney. With 13+ years in the making and over 500 successful marriage proposals and romantic dates later you know you're in good hands with your once in a lifetime opportunity to propose to the love of your life. Think, the perfect fusion between creatively romantic, thoughtfully designed and smoothly delivered to the finest detail. We're designers and producers and work with amazingly cool people that believe in the power of romantic experiences.
Are you ready to propose?
Let's get started
Contact us here