19 July 2021 –
We know that the Covid lockdown has impacted a lot of proposal and romantic event plans in Sydney and Melbourne, with many of you having to postpone your plans until after restrictions have eased. However, just because we are in lockdown, doesn't mean that you can't show your significant other how special they are to you! Now is the best time to lift each other's spirits with romantic gestures and relight that spark! Here are our top suggestions to keep the romance alive from the comfort of your own home:
1. Romantic Dinner for Two at Home
Nothing says "I love you" like a beautifully prepared home cooked meal! You don't need to stop their though… decorate your dining space with romantic props like flowers, candles, and mood lighting to make the experience even more special. Don't forget a romantic playlist and a bottle of their favourite wine.
2. Hire Decor
Don't let lockdown stop you from proposing to your special someone! My Proposal Co. is now offering hire of our proposal props to create a gorgeous proposal setup at home. We will bring everything you need to propose in style, right to your doorstep and even guide you on how to make it look amazing within your space. Your partner will be blown away by the effort you have gone to in creating the perfect proposal at home!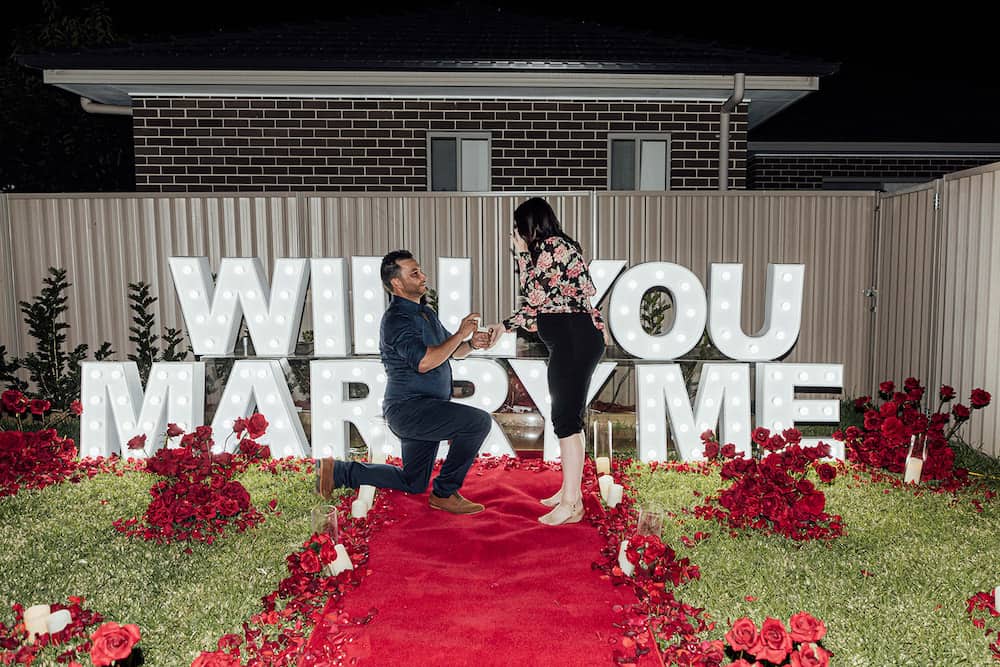 3. Paint your Partner Date
Bring out your creative sides with a romantic painting date! Set up your canvas o
r paper, paint brushes and colours and give each other the challenge of painting your partner. This is a super fun way to try something new and make each other laugh and you might even find out that you've missed your calling as a professional painter! Couple your painting date with a bottle of wine and a cheeseboard for two to create a lockdown date worth remembering.
4. Backyard Picnic for Two
Enjoy the fresh air and the company of your partner with a delicious backyard picnic! Set up the picnic blanket and enjoy a gourmet picnic together. We will deliver a beautiful picnic spread for the two of you to enjoy with romantic props to take your at home picnic to another level!
5. Romantic Spa/ Bubble Bath
There is nothing more romantic and relaxing than a nice warm bubble bath for your partner to enjoy! Draw them a bath, put on some relaxing music, light some candles, and pour them a glass of wine and let them soak in the good vibes. Lockdown is hard and everyone deserves a break, so show your partner how much they mean to you with this romantic gesture. Don't forget the rose petals.
6. Romantic Movie Night at Home
What better way to unwind after a big day in lockdown than a romantic movie night! Snuggle up together and pick your favourite movies to watch all night long. You could even build a pillow fort in the lounge room or take a projector outside to watch movies under the stars. Make your date super cosy with fairy lights and candles to create a super romantic night to remember.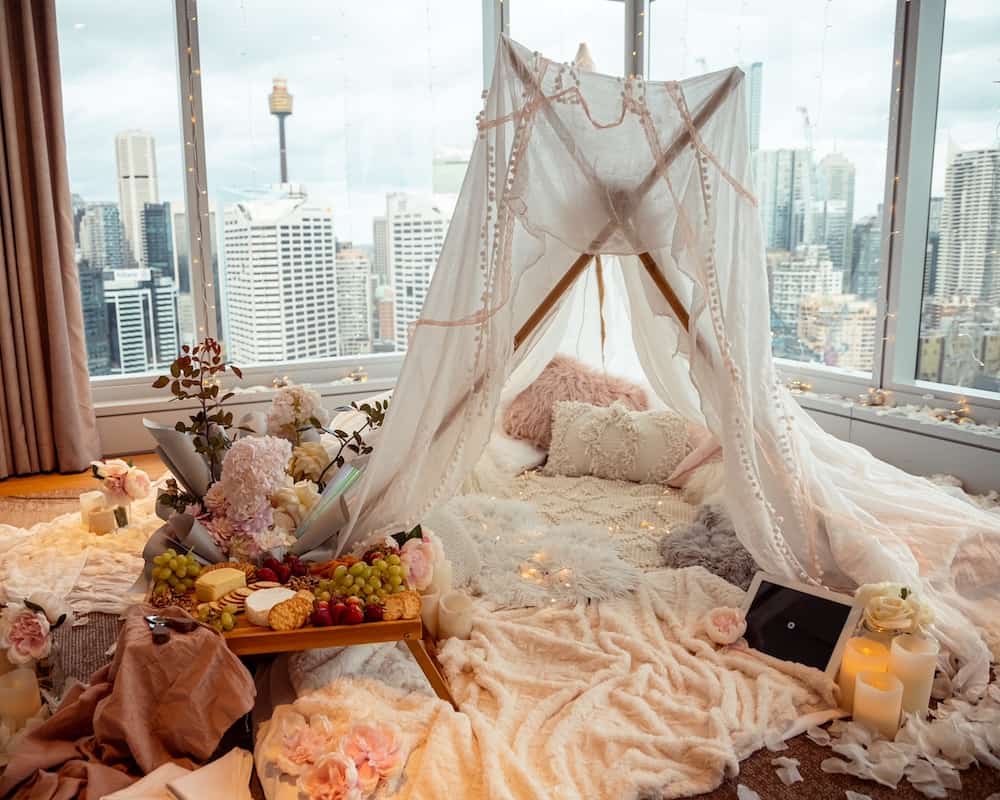 "Romeo, Romeo, where for art thou Romeo?" This one is great for multi-storey apartments/ houses. Have your partner stand on their balcony and catch their attention from below. You could sing them a song, write them a speech, hold up a boom box John Cusack style, or do a dance! This will be sure to make them smile and is an awesome way to surprise your partner with something out of the ordinary.
Don't let Covid lockdown ruin the romance! Contact our team at My Proposal Co. if you need help pulling off any of these romantic lockdown ideas.
xxx
Tania + Gloria
Tania and Gloria are proposal planners based in Sydney. With 13+ years in the making and over 750 successful marriage proposals and romantic dates later you know you're in good hands with your once in a lifetime opportunity to propose to the love of your life. Think, the perfect fusion between creatively romantic, thoughtfully designed and smoothly delivered to the finest detail. We're designers and producers and work with amazingly cool people that believe in the power of romantic experiences.
Are you ready to propose?
Let's get started
Contact us here