3 August 2020 –
When considering your proposal ideas and the final look of the proposal styling, you should always consider if you are setting up the proposal in the morning, afternoon, or evening. In a nutshell, what the sunlight is doing will hugely impact what your proposal setting will look like in photos and in person.
The big consideration here is light. Will it be daylight, will it be sunset or will it be completely dark around you?
You wouldn't want to set up a fairy light setting or big bright light up Marry Me letters in the early afternoon, for example, there would be no point if you can't see the lights in the middle of the day.
So what type of settings work best at what time of day?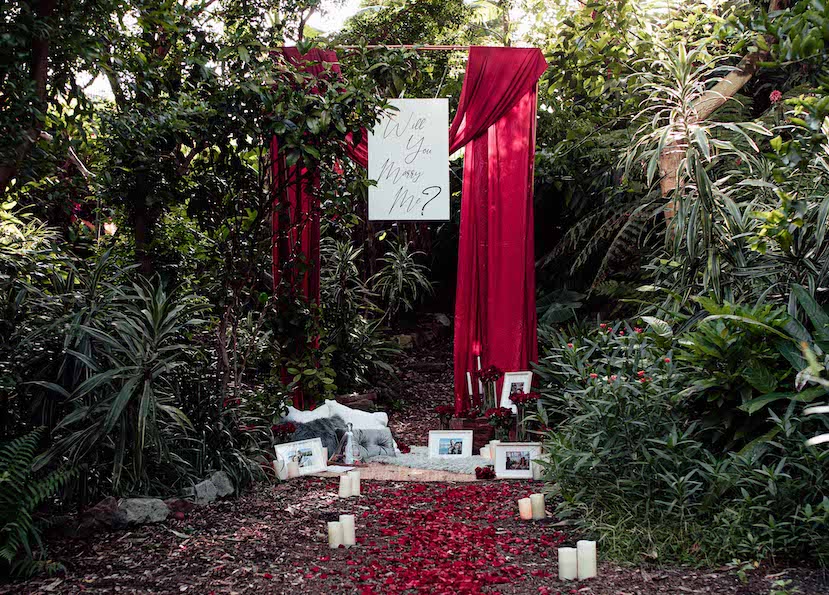 Day
When setting up during the day, don't bother with fairy lights and candles, your focus should be on flowers and/or draping!
Flowers will photograph beautifully during the day when the sun is beaming down on them and draping will soften the light around you, if you don't have any tree cover.
You can either keep your setting simple and set up a floral themed picnic with a delicious food hamper or go all out a create an extravagant floral display to propose in-front of.
The last hour before sunset (a.k.a. golden hour) is also a perfect time to capture beautiful couple photos.
Twilight/Sunset
There is something really romantic about watching the day coming to an end with your partner, as the sky fills with beautiful colours and the sun sets behind the horizon.
This is the best time of day to propose!
You have the best of both worlds if you time everything correctly. This time of day can be light enough to take beautiful photos and dark enough for the glow of candles and fairy lights to show.
There is a very small window here to capture the perfect photo though, so make sure you work out what twilight period will work best with your setting and also speak to your photographer about their capabilities in capturing photos in low light photos.
A proposal planner should be able to tell you the best time to propose at twilight. It is a matter of half an hour whether it can be either be too light or too dark.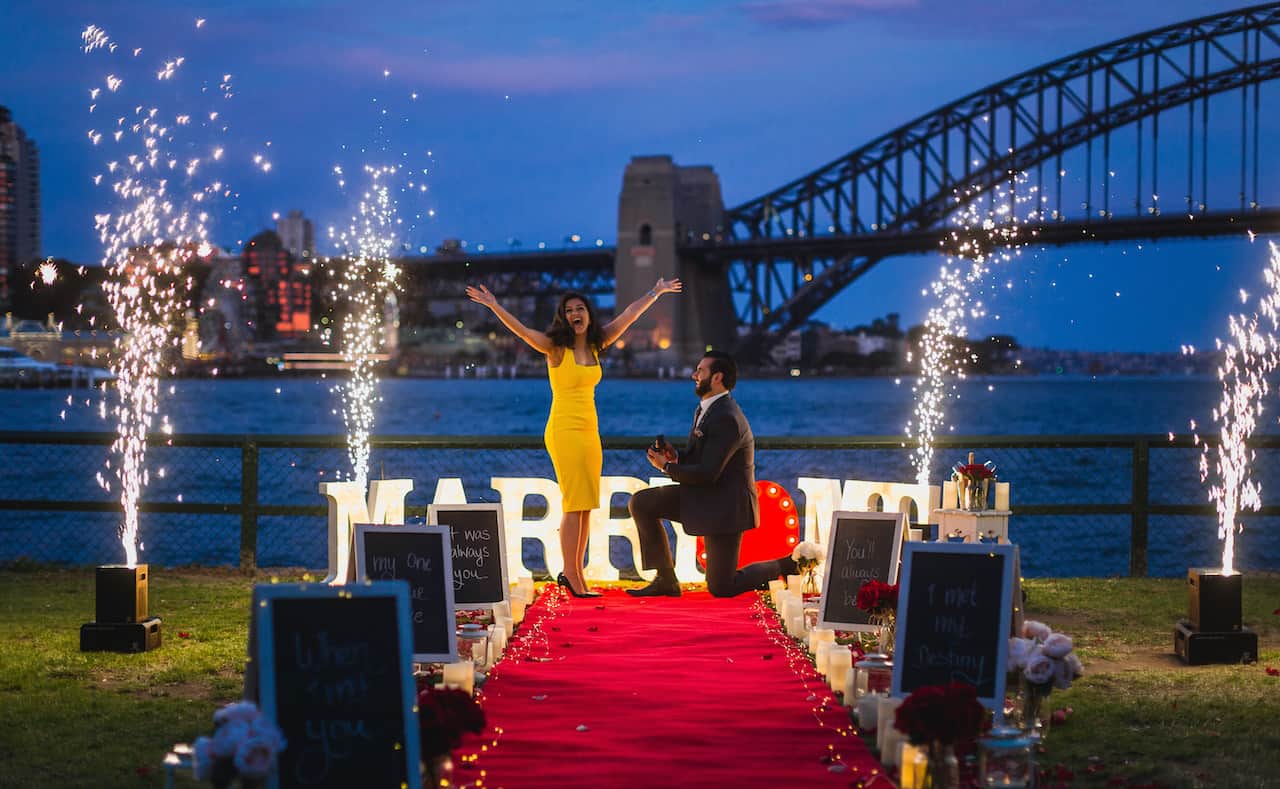 Evening
This time of day is perfect if you propose indoors with light or outdoors with a big light-up feature to create some light.
The big light up love hearts or light up marry me letters create enough light that you can still see you down on one knee in a photo.
Of course, fairy lights and candles work really nicely when there is no other light around, but for the purpose of great photos, always add an extra light source in at the time of the day.
Chandeliers anyone?
xxx
Tania + Gloria
Tania and Gloria are proposal planners based in Sydney. With 13+ years in the making and over 500 successful marriage proposals and romantic dates later you know you're in good hands with your once in a lifetime opportunity to propose to the love of your life. Think, the perfect fusion between creatively romantic, thoughtfully designed, and smoothly delivered to the finest detail. We're designers and producers and work with amazingly cool people that believe in the power of romantic experiences.
Are you ready to propose?
Let's get started
Contact us here