21 Aug 2021 –
We know that the coronavirus lockdown has put a damper on a lot of people's proposal plans for 2021! But just because you can't leave your house at the moment, doesn't mean you can't give your partner the perfect proposal during lockdown. Home is where you have already shared so many beautiful memories together, so why not propose at home to make the moment even more special?!
Here are our top tips on where to propose in your home to give your partner the proposal they have been dreaming of:
Loungeroom
Build them a pillow fort with sheets, cushions, and rugs, hang some fairy lights and sprinkle some rose petals and play their favourite movie!
We have previously created a slideshow/movie for a client of all their favourite moments together, with their surprise proposal message at the end! 
You could even give your partner that destination proposal they've always wanted right from the comfort of your lounge room by putting the location up on your TV! You could travel to a romantic European city, a tropical island, or the snow all with the click of a button. 
Backyard
Head out to the garden or onto your balcony and create the perfect proposal setting. 
Roll out the picnic rug and decorate it with cushions, blankets and a yummy picnic spread – you could even hide the ring in a picnic basket and ask your partner to get something out for you, so they find it!
Cover your balcony with fresh florals and rose petals – you could even get a MARRY ME sign to complete the setting. 
Create an aisleway using candles and rose petals into your backyard and be waiting on one knee at the end of your aisle for your partner to arrive.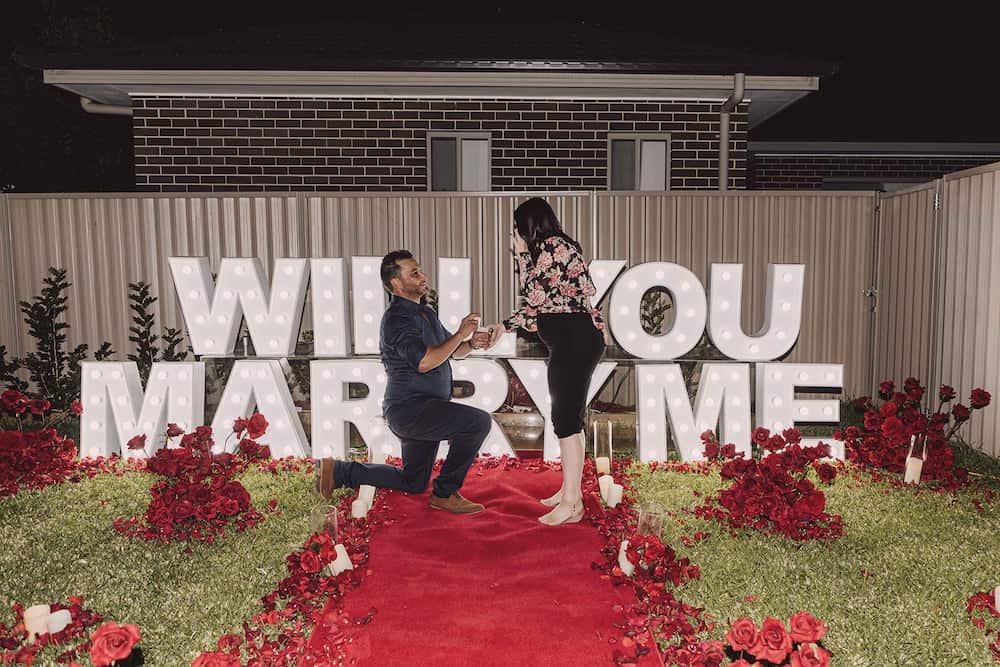 Dining Room
Set the table with your finest plates and cutlery, light some candles, and cook your partner a romantic three course meal – presentation is key!
Put down a nice tablecloth, fold some napkins, buy your partners favourite bottle of wine, and tell them that you are having a romantic date night. 
Pour them a glass of wine and tell them to relax while you take care of the kitchen.
You could even hide the ring in the dessert or place it in a glass of Champagne!
Bedroom
Create a giant love heart on the bed with rose petals and leave your partner a love note that you've written yourself.
Place candles and flowers all around the room and light them for a romantic ambience – just be careful of the smoke alarm for this one!
Cover the ceiling in balloons!
Create a playlist with all your favourite romantic love songs and play it softly in the background.
Create a path of rose petals leading from your hallway to the bedroom that you partner can follow to find you waiting on one knee ready to propose!
Now that you know how perfect an at home proposal can be, fill out our enquiry form and let our team of experience proposal planners help you create your perfect DIY at home proposal!
xxx
Tania + Gloria
Tania and Gloria are proposal planners based in Sydney. With 13+ years in the making and over 500 successful marriage proposals and romantic dates later you know you're in good hands with your once in a lifetime opportunity to propose to the love of your life. Think, the perfect fusion between creatively romantic, thoughtfully designed and smoothly delivered to the finest detail. We're designers and producers and work with amazingly cool people that believe in the power of romantic experiences.
Are you ready to propose?
Let's get started
Contact us here