25 June 2020 –
It's our job to help our clients create perfect proposal moments, full of happy tears and beautiful photos! We do as much as we can to make the process stress free and enjoyable.
Whilst asking the actual proposal question is up to you, we can still offer our expert help on the best way to go about proposing, from start to finish. 
So, how do you propose?
There are no blanket rules when asking your partner to marry you, each proposal and couple is unique. Even though the rules are not set in stone, we can still offer a guideline to help make the whole process a lot clearer and have you proposing like an absolute dream boat. 
Decide if you're ready
This one speaks for itself. If you have found this blog, you have obviously given some major thought to the idea that the person you are with now, is the person you want to always be with. 
Congratulations! You have found the one. From here, it's time to start planning how you will pop the question.   
2. Ask for the family's blessing
It's 2020, there are no strict rules on whether or not you need to ask for "permission" to marry your partner. Some of our clients choose not to but to be honest, the majority do.
The key in working out whether this step should be added to your 'to do list' is to think about your partner and the relationship they have with their family. If your partner is close with their family, never forget to ask his/her parents for their blessing before you propose. 
This is a really respectful gesture and not only will your partner love that you involved their family, but the family will too! Sometimes a touch of tradition can be very sweet and this one will get you off on the right foot.
3. Find a ring
Okay, now that you have ticked off the above, it's full steam ahead and time to start looking for a ring!
If you and your partner have discussed getting engaged recently, they may have dropped a hint about (or even shown you) the ring of their dreams! Lucky you.
If you don't have the luxury of any ring hints and you don't want to spoil any surprises by asking, you can click here for some of our tips on what to do.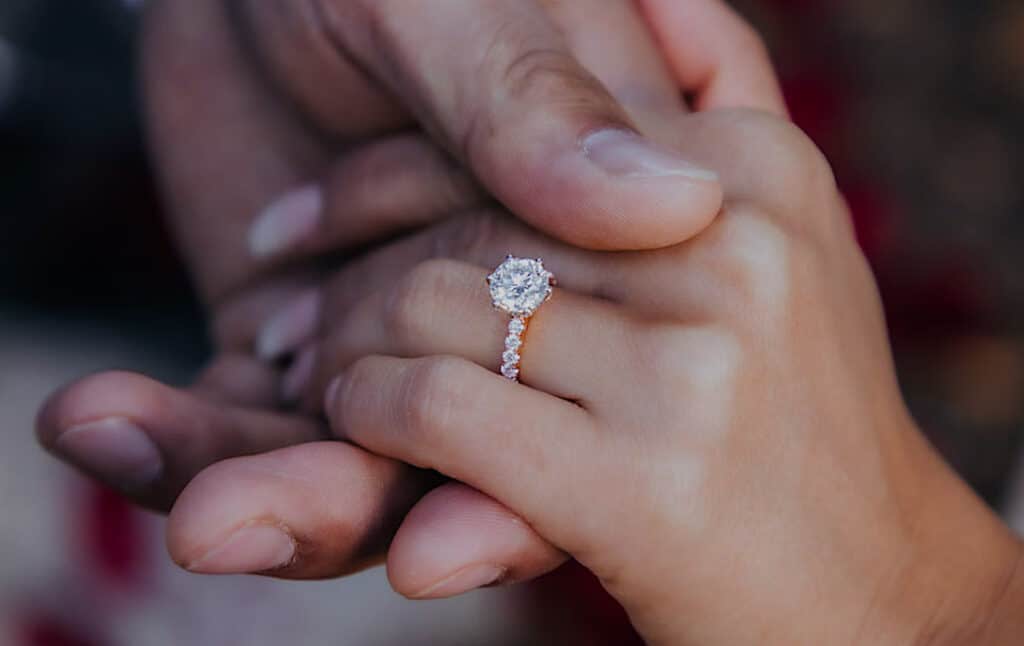 4. Decide on a date 
While the ring is in motion, it's time to start working on when you will propose.  
To come up with a proposal date you could consider any of the following:
When your ring will be ready
How much time you need to come up with an idea and plan it all. 
There is absolutely no need to rush this process, it's better to relax and perfect the planning stage instead of rushing through it and stressing yourself out.
Proposing on a sentimental date like an anniversary or the day you met – cute!
Proposing on another milestone day to throw your partner off the scent, like their birthday or event YOUR birthday. This is a great option because you would be planning a night out anyway (right?).
It can be any day! There are no rules, so its just whenever the timing is right.
5. Come up with an idea 
Okay, now the fun part (well, the part we love anyway) – the proposal idea! What is the best way to propose?
This is a huge question and the world is your oyster. You can propose down the road on a walk or on the other side of the world on holiday. The key to coming up with a proposal plan is to always have your partner in mind; the kind of person they are and what they would love to do. 
If they are shy, don't plan a public flash mob. Chose a private location and an intimate setting like a private dinner or a private holiday home. 
If they love the outdoors, organise a romantic outdoor activity like a chartered boat in the harbour for the two of you. 
If they love music, organise a band to play their favourite song 
If they love capturing the perfect photo, arrange for a stunning proposal backdrop to bend the knee in front of. Something Instagram worthy!
Of course, when in doubt, a proposal planner can always help you – it's our job to be romantic. 
Click here for some serious proposal inspiration. 
Click here for 6 proposal ideas. 
6. Work on the logistics
If you don't have a proposal planner, there are a few key factors you need to consider when working out the logistics of your proposal:
Location 
Wet weather plan 
Time of day
Who will set up and pack up for you on the day?
Where and when you will buy or hire everything you need for the setup
Organise a photographer to capture the moment (not essential but always recommended) 
Who will be the main contact person? (you don't want suppliers calling you if you're with your partner!)
Brief all your suppliers on the plan
How you will get your partner there (more on this later)
Choose your outfit, because it's important to look your best when you're trying to impress!
Organise parking so you're organised and running on time on the day
7. Come up with a fake story
Now that you have mapped out the logistics and the idea, it's time to decide what you will tell your partner, so you don't give away your plans. 
If you're the type of person that plans spontaneous date nights, just pretend it's another date night – easy. 
Here are a few ideas on the little white lies that can help keep your proposal day a surprise: 
Pretend you have a friend or colleagues' birthday that you are both invited to (have them send a fake invite text)
Pretend you have an engagement party or wedding to go to (create a fake invite and mail it to yourself)
Pretend you have won a competition for a night out or a photo shoot (create a fake prize voucher)
Pretend you want to go for a walk or just a regular dinner and instead take them to the proposal location
Plan the proposal on a milestone date like a birthday or anniversary where you would be going out anyway
We have organised many fake vouchers and wedding invites and it always works a treat when done properly!
8. Nail the proposal moment!
The day has arrived!!!! Everything has been planned and all the wheels are in motion, now it's time to run a few last-minute errands and get your partner to the proposal location for the big moment. 
Here a two frequently asked questions and helpful hints.
What to say

Some of our clients like to say a few words before they ask the big question. For example, why they love their partner, why they want to be with them for the rest of their lives and even a cute story or personal joke they share together. Keep this short and to the point. 
Some clients prefer to skip the speech and head straight to "Will you marry me?". This is just as romantic, so don't worry if you are a man or woman of few words.
There are no rules here just say whatever feels right!

 Getting on one knee

 Traditionally, you get down on one knee (doesn't matter which knee) and present the ring with the words "will you marry me". 
If you get down on one knee, get the ring box out of your pocket first! This avoids the awkward fumble when you're trying to balance yourself (handy hint). 
Some clients choose not to drop the knee. If this isn't your thing not to worry. Just take your partner by the hand, look them in the eye and ask the question. 
As long as you say it like you mean it, there are no real rules anymore.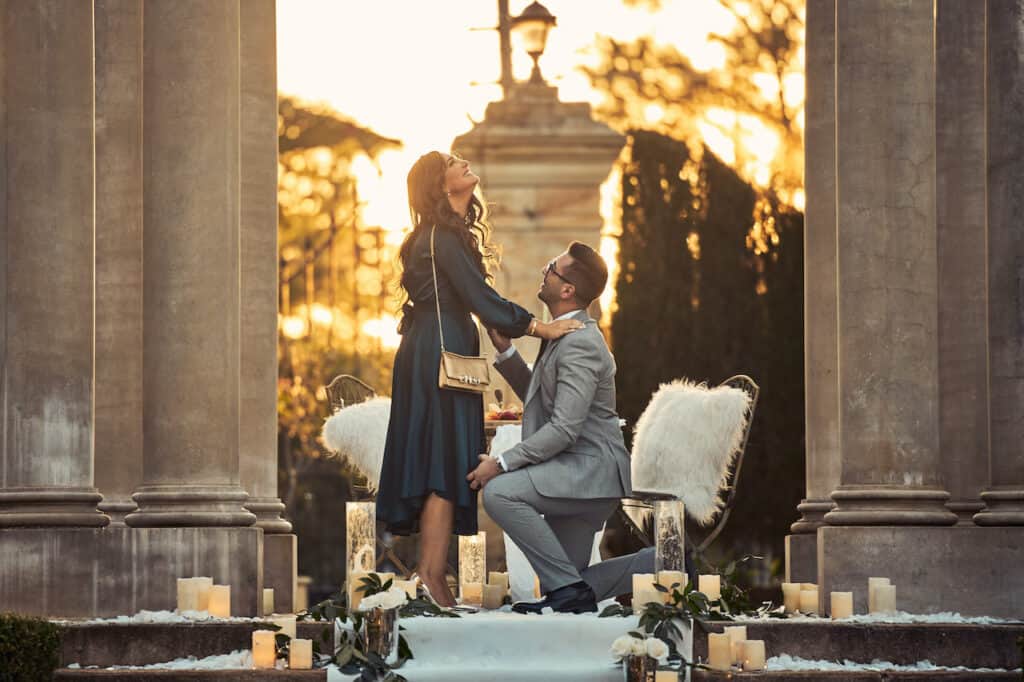 Photographer: Momento

9. Organise what to do after you get a "YES!'
Congratulations, you're engaged!!! You don't want to head home and call it a night, so what do you do now?
It's nice to have a bottle of champagne on hand to pop open and celebrate with!
Spread the word to your nearest and dearest! Yell it from the rooftops! Say it loud and proud! You're engaged. This is where you should expect an influx of calls and texts. 
If your partner is family and friend orientated, have family and friends join you afterwards to celebrate the occasion and congratulate you both.
If you prefer to keep the moment intimate and romantic, organise a restaurant reservation or hotel booking, just for the two of you to enjoy.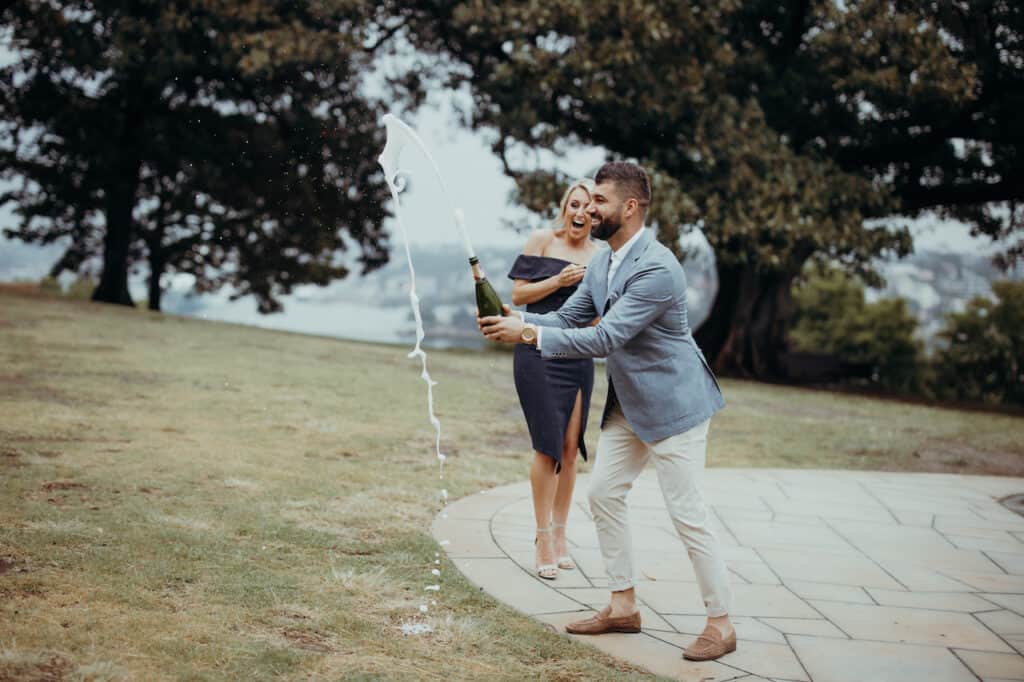 It can be a lot to take in when planning a whole proposal, but we hope this handy list has helped you along the way. Of course, if you feel you need some help, our team is always here. 
xxx
Tania + Gloria
Tania and Gloria are proposal planners based in Sydney. With 13+ years in the making and over 500 successful marriage proposals and romantic dates later you know you're in good hands with your once in a lifetime opportunity to propose to the love of your life. Think, the perfect fusion between creatively romantic, thoughtfully designed and smoothly delivered to the finest detail. We're designers and producers and work with amazingly cool people that believe in the power of romantic experiences.
Are you ready to propose?
Let's get started
Contact us here