8 October 2020 –
Australia offers so many different experiences and locations for romantic couples looking to spend some time away. Some of the most romantic locations on offer being… wine regions! We are taken in by their country town charm, rolling hills, picturesque vineyards and hatted restaurants.
For a country so large, we are blessed to have wine regions scattered in almost every state. To name a few; Yarra Valley – Victoria, Hunter Valley – New South Wales, The Barossa Valley – South Australia, Margaret River – Western Australia, Coonawarra – South Australia.
For our NSW clients who want to find a wine region to propose in, the most popular is the Hunter Valley. It is one of the oldest and well established wine regions in the country, it lends itself perfectly to romantic weekends away with all the trimmings. Below are some of our favourite romantic experiences in the Hunter Valley.
Cellar Doors and Wine Tasting
(cellar door: part of a winery from which wine may be sampled or purchased)
One does not simply visit the Hunter Valley and not indulge in local winery visits and tasting. With over 150 different cellar doors to choose from, the options are endless.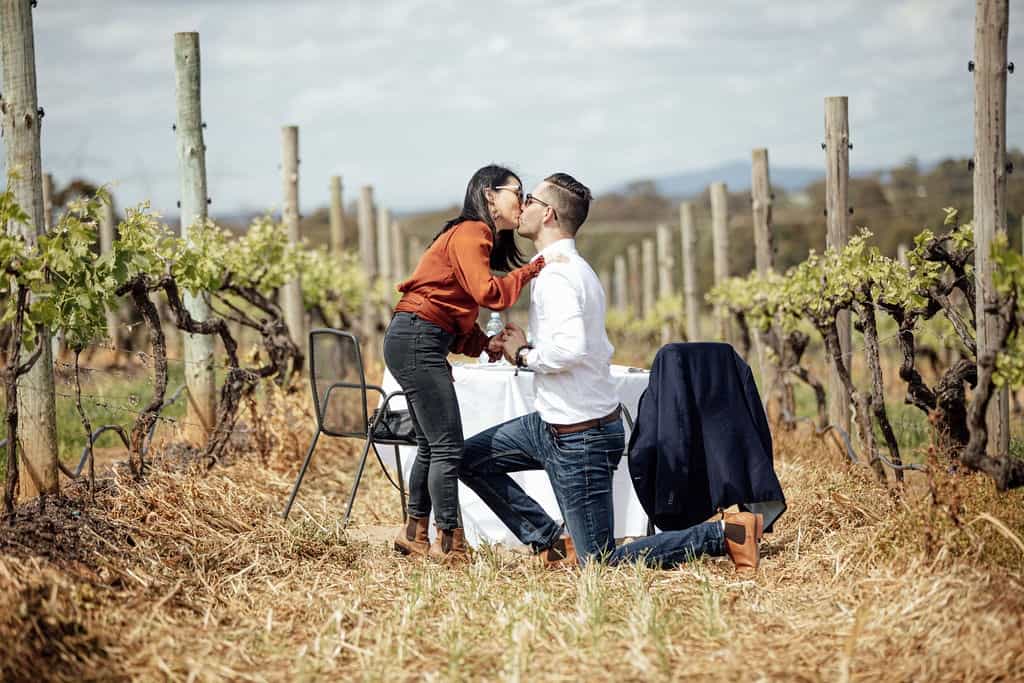 Proposal idea: Organise a private wine tour for the day. You will be picked up and taken to various cellar doors to sample their wines and appreciate their beautiful locations.
Along your wine tour, organise one of the wineries to be your surprise proposal location! Suggest a walk amongst the vineyards where you will drop down on one knee and ask you partner to marry you!
We suggest arranging a photographer to capture the perfect moment and organise for a romantic lunch amongst the vineyards to celebrate. Step it up a notch with some picture perfect styling.
Cheese and Chocolate Tasting
The Hunter Valley is not just known for its wine.
You can visit various cheese shops and chocolatiers to find the perfect accompaniment to your newly acquired wine. Simply let the sales assistant know the wine you have purchased and they will be able to find you the ideal cheese or chocolate pairing to match. At most outlets, tastings are available! Yum!
Picnics
The Hunter Valley is made for long afternoon picnics. Surrounded by cheese, wine and chocolates, you can create the perfect picnic hamper to graze on with your partner.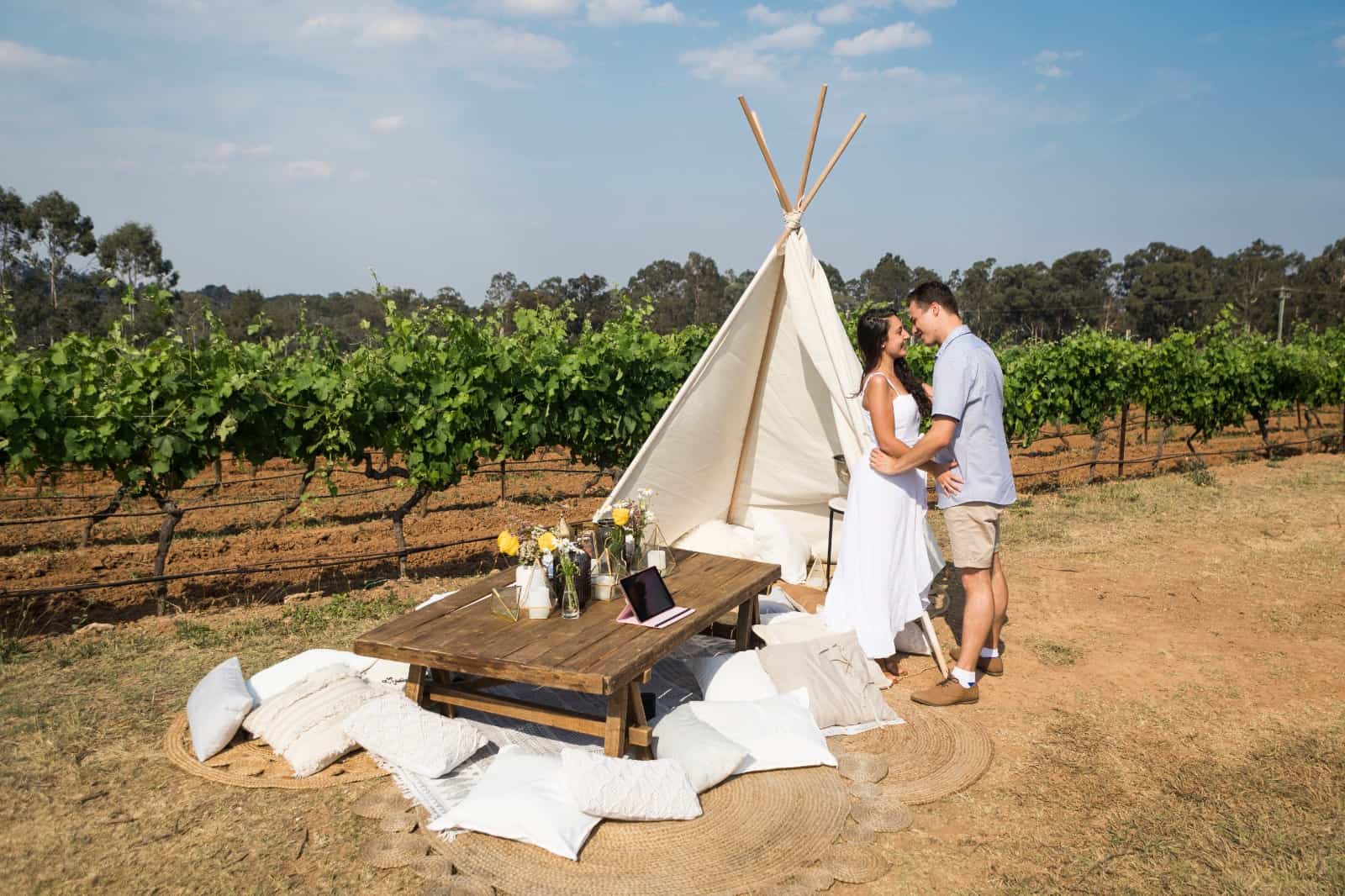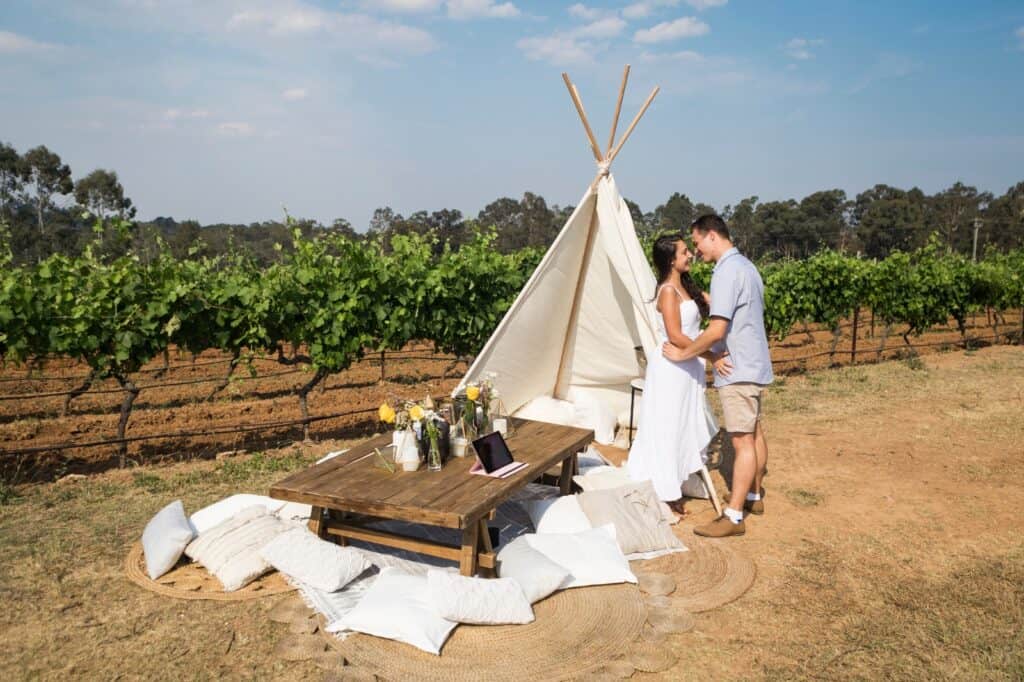 Proposal Idea: Spend the morning visiting the local cheese shops, delis and chocolateries, collecting some of your favourite ingredients and wine pairings. Spread out a blanket and some cushions in a picturesque location, such as a hill overlooking a vineyard or a manicured garden. Then, enjoy a lazy afternoon of grazing. When the timing is right, get down on one knee and propose! This is a perfect idea for someone who wants to propose in an intimate setting.
Fine dining
With wine comes food pairing! The Hunter Valley has a plethora of restaurants available, with some of the country's best chefs. Choose from casual dining through to fine dining to suit all tastebuds.
For a romantic weekend away or to celebrate a marriage proposal, fine dining is our go-to. Some of our favourite fine dining restaurants includes; Muse, Exp Restaurant, Restaurant Botanica and Circa 1876.
Proposal Idea: Find a venue with a private dining space. Have someone arrive before your booking time to set the space up for you with all the trimmings; candles, petals, flowers etc. When you arrive, you will be taken to your table by the hostess, where your partner will be blown away by the most romantic dinner they will ever experience. Top it all off by proposing during dinner!
Hot Air Ballooning
One of our favourite experiences is gliding OVER the valley.
There truly is something so romantic about watching the first rays of sunshine peak over the horizon while you float in a hot air balloon. It's such a tranquil way to start your morning and a super romantic one at that! Most companies will offer breakfast along with a hot air balloon ride at one of the wineries or restaurants in the Hunter Valley. It's an all-round, must do experience!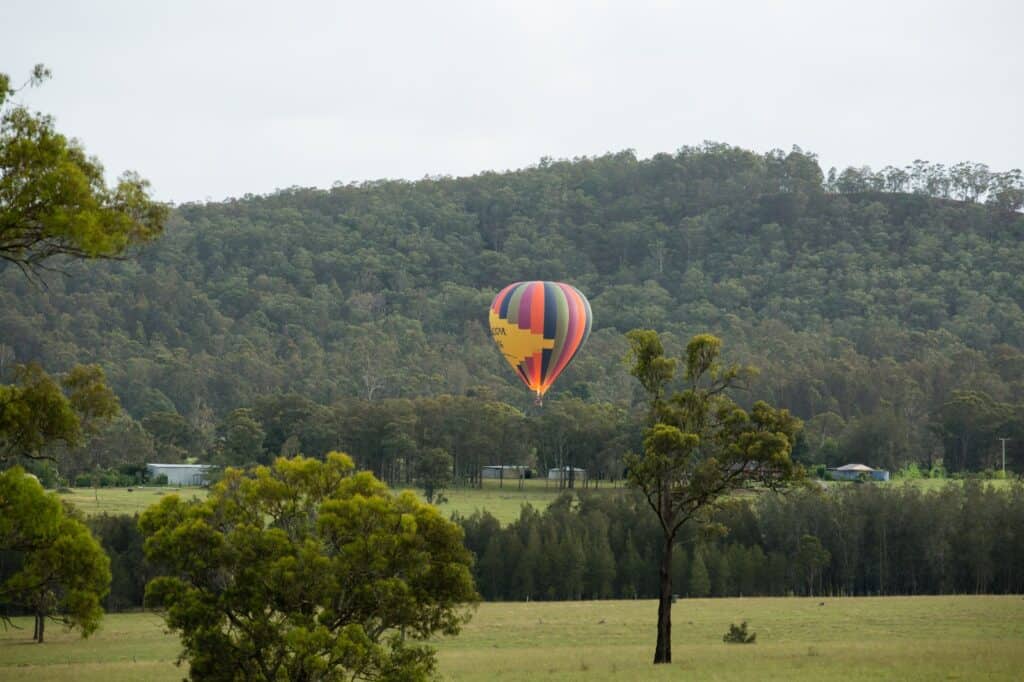 Proposal Idea: Book a private hot air balloon ride just for the two of you where you will have the whole balloon to yourself (along with a pilot). Organise for a large marry me banner to be positioned on the floor before you return for landing. As you get closer to the ground, your partner will see the marry me sign, only to turn around and find you done on one knee with a ring, ready to propose!
Horse Riding
Whilst you can glide over the valley, you can also ride THROUGH it.
There are a number of reputable horse riding facilities and tours available in the Hunter Valley that can cater for all types of experience levels. You can choose from morning, afternoon or sunset rides.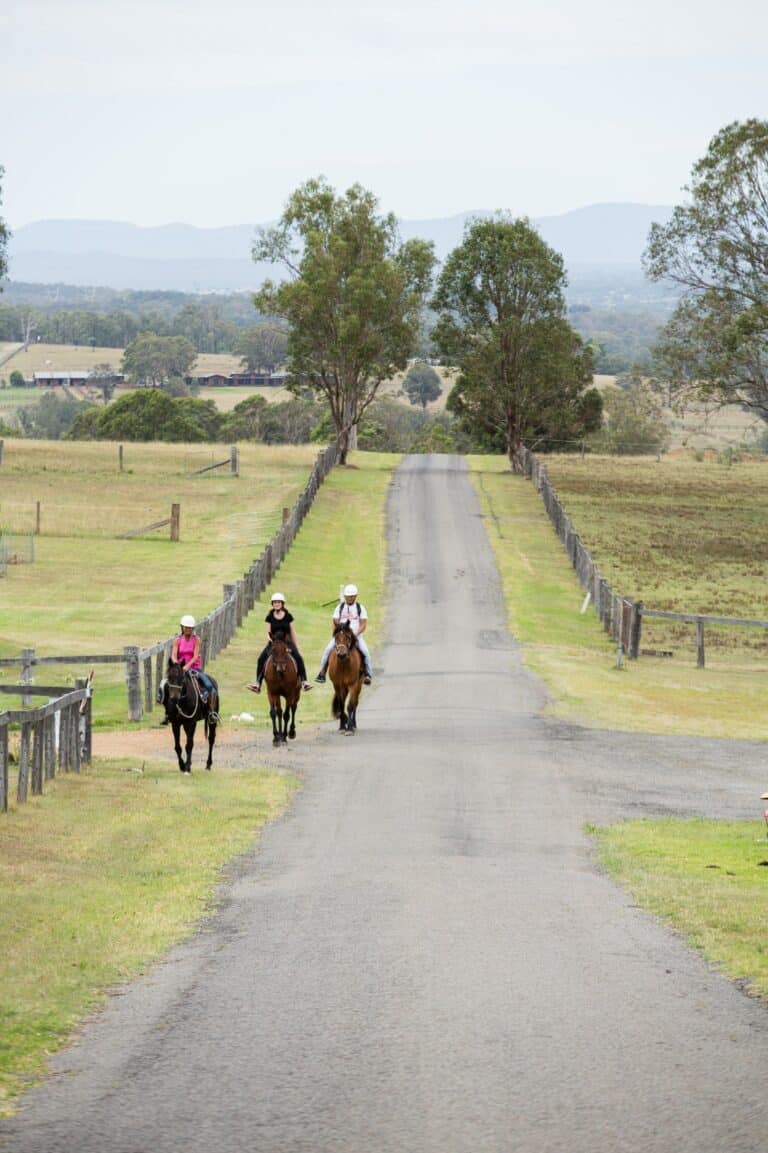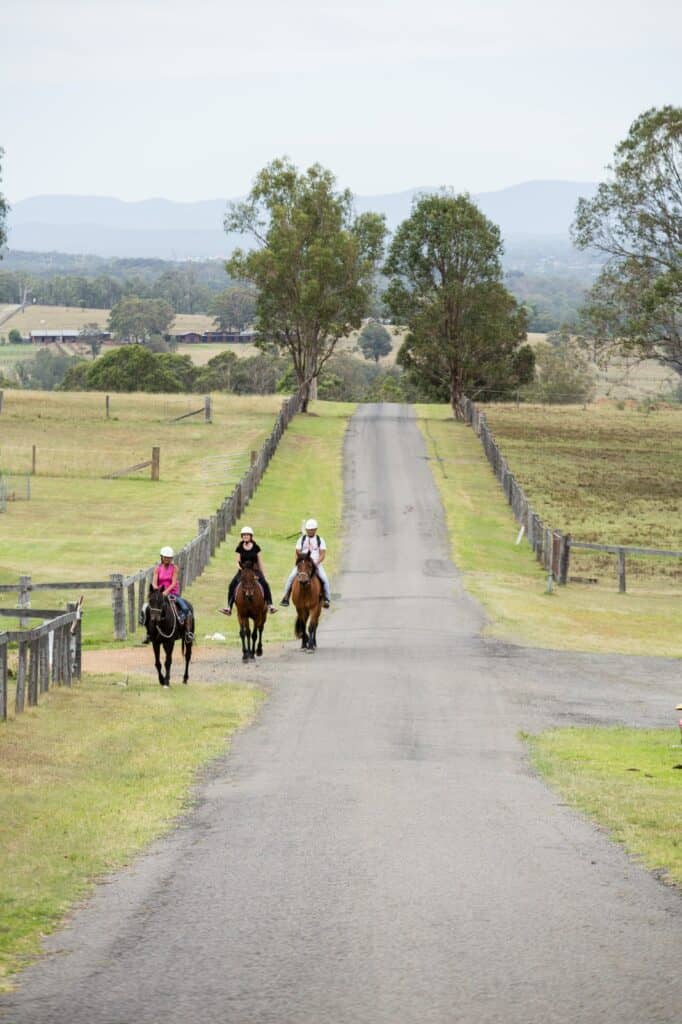 Proposal Idea: Organise a private tour for a truly romantic experience. You can pre-arrange for a proposal planner to set up a stunning proposal setting for you along your horse riding trail. This will need to be approved by the horse ride operator and organised in advance to make sure the your guide follows the pre-arranged path. Arriving at your proposal setting on horseback will be a fantastic story to tell!
Helicopter Transfers
Arrive in style!
You can arrange for helicopter transfers to get you to various places in the Hunter Valley. You can land directly in front of the doors of various wineries and restaurants, or even fly from Sydney to the Hunter Valley for a day trip. This is definitely one way to impress.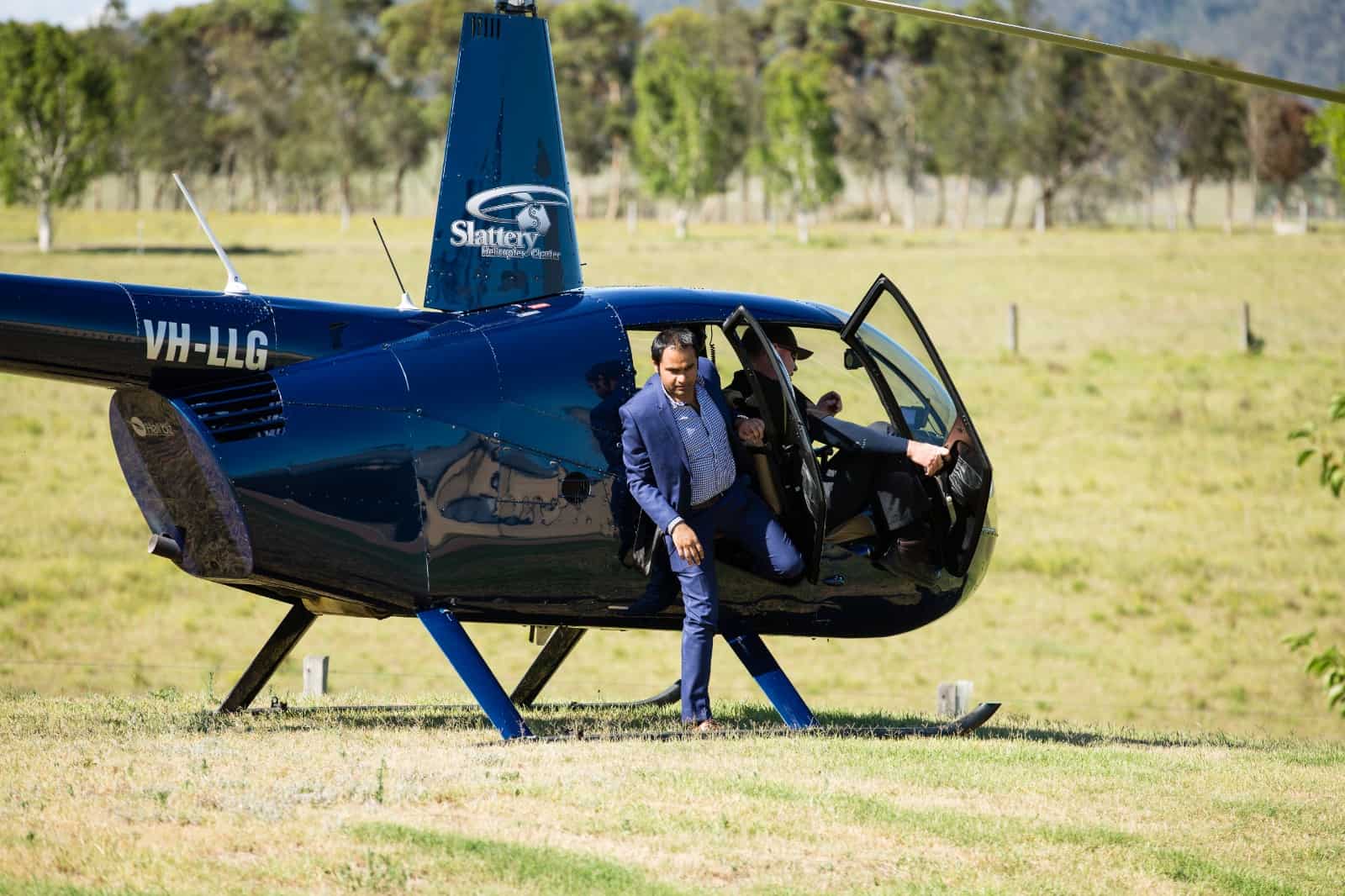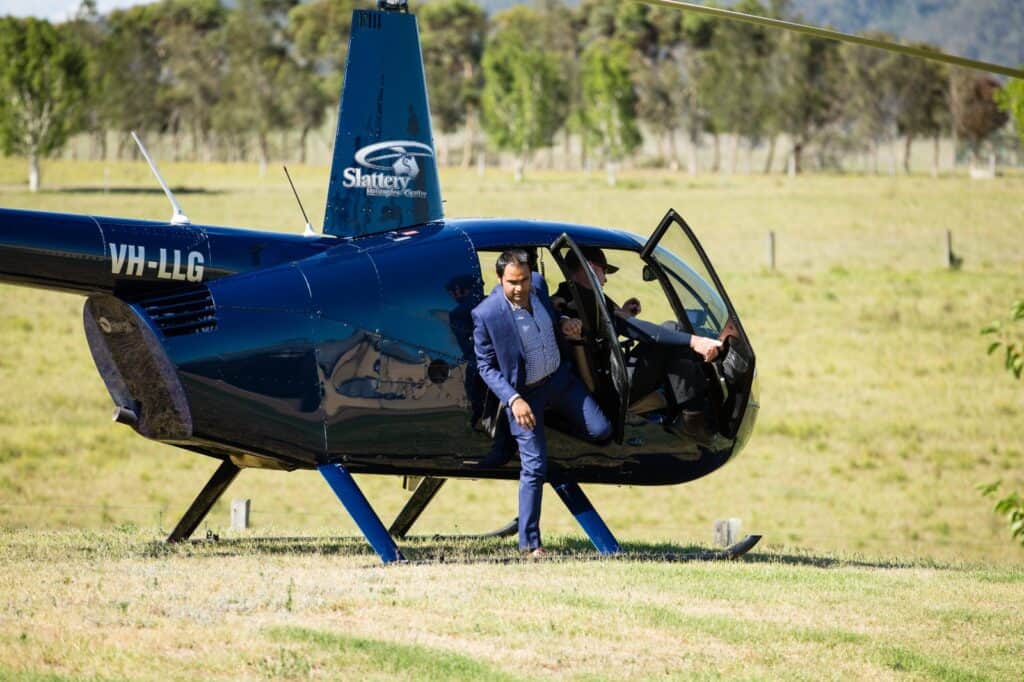 We hope some of these ideas got your creative juices flowing. For your Hunter Valley proposal plans, we have a whole team available with lots of ideas ready to help make it perfect for you.
xxx
Tania + Gloria
Tania and Gloria are proposal planners based in Sydney. With 13+ years in the making and over 500 successful marriage proposals and romantic dates later you know you're in good hands with your once in a lifetime opportunity to propose to the love of your life. Think, the perfect fusion between creatively romantic, thoughtfully designed and smoothly delivered to the finest detail. We're designers and producers and work with amazingly cool people that believe in the power of romantic experiences.
Are you ready to propose?
Let's get started
Contact us here